The Hearts on the Bridge project began in the Summer of 2015 when Ellen Clark, Concierge with Experience Oswego NY, was approached by Kevin Rookey with the unusual request to have ten large lit hearts placed on the Bridge Street bridge in Oswego.
Kevin said, "I want to create the hearts to have them placed on the light poles on the Bridge Street Bridge and I want you to make it happen."  So, the plan was for Kevin to create the hearts while Ellen handled the cost of the materials and the work involved to get them up on the bridge. The goal was to make people smile.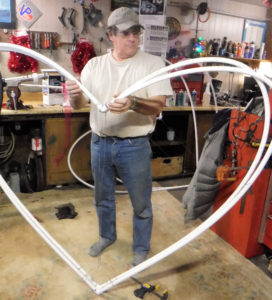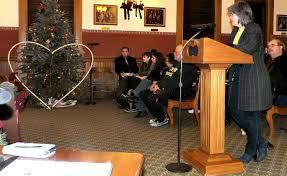 The photo of Ellen in a lit up heart was posted on Facebook in January 2106 with the caption "The City of Oswego Common Council approved my request tonight to have 10 illuminated hearts placed on the Bridge Street bridge for the month of February!!!"
As it turned out, the plan worked and the hearts went up on the bridge for the month of February 2016, the goal was realized and the hearts made many smile. In fact, the hearts made people smile more than we ever thought they would. Thanks to Facebook  we saw the impact immediately.
On February 11, 2016 I posted photos of the Hearts on the Bridge with the following caption "The color-changing hearts on the Bridge Street bridge still glowed brightly amidst the treacherous snow conditions and school closings in Oswego this morning.
"
The post turned out to have 881 Likes (that was before the 
choice), 507 shares and 80 comments. That was a lot at that point in time and we were thrilled that the hearts had that much of an impact!
Thank you to everyone for your encouragement!